We're Getting Mutants in the MCU - The Loop
Play Sound
Overview Gallery Voicelines Videos Trivia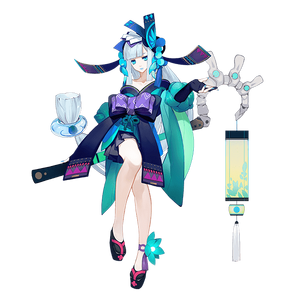 Abilities
[
]
Lantern Support | Natural Passive
For every 1 MP lost, Aoandon's MP recovery effects are increased by 0.8%(+0.05%*Current Level).
Butterfly Shadow | Ability 1 | Passive
Aoandon enters Butterfly Shadow state and attack range increases up to 675 yards. Each basic attack will cost 25+17% of current MP and deal 20(+10.5% (Every 80Ability Power increases 1%)Current MP) magic damage to target and enemies around the target.

When attacking non-shikigami units, used MP will be decreased to 9+6% of current MP. Damage decreases down to 60% when attacking minions.
Ghostly Light | Ability 2 | Active
Aoandon opens a portal of ghostly light at the designated position for 4 seconds. When enemies pass through the portal, they take 80(+45%Ability Power) magic damage, and their Movement Speed is decreased by 20% and Magic Resist decreased by 20% for 2 seconds. When allies pass through the portal, Movement Speed is increased by 40% for 2 seconds.
Soul Drain | Ability 3 | Active
Aoandon lights up her Soul Drain to attack towards the specified direction, dealing 80(+45%Ability Power) magic damage to enemy shikigami within range while restoring 25(+1%Max MP) MP for ally shikigami within range. If it hits an enemy shikigami, it will restore (+25% (Every 16.67Ability Power increases 1%)MP Lost ) MP for herself, while if it hits minions or monsters, her MP will be restored 50%.
Ghost Story Lantern | Ultimate Skill | Active
Aoandon summons Lantern Support on the specified location to drain the souls of nearby enemy shikigami for 2 seconds. It can deal up to 400(+110%Ability Power) magic damage and decrease target's Movement Speed by 20%. When the lantern fades out, enemies within the attack range will be stunned for 1.25 seconds.
Stats
[
]
Base Stats
BASE ATTACK
62
BASE ATTACK SPEED
0.625
ATK ANIMATION DURATION
21s
BASE MANA
360
BASE MAGIC RESISTANCE
60
BASE MANA REGENERATION
8
BASE HP
872
BASE HP REGENERATION
9
BASE ARMOR
57
BASE MOVEMENT SPEED
350
Scaling Stats
ATTACK DAMAGE
+4.5
ATTACK SPEED
+0.007
MANA REGENERATION
+7
MANA
+50
MAGIC RESISTANCE
+1.5
HP
+150
HP REGEN
+0.82
ARMOR
+7
Strategies
[
]
Playing As
[
]
After enhancing Ability 1, the basic attack will have high AoE damage. It can be used together with the MP Regen effect of Ability 3 for effective harass. Ability 2 inflicts Slow on the target, and Haste on allies at the same time. Ability 4's control effect has a longer delay time, and should be cast together with other control abilities when possible.
Biography
[
]

"What? You want to hear my story? Are you sure? Really sure? Really, really sure? If you really do want to hear the strange tale I have to tell, then be ready to stay here until sunrise. I love ghost stories, both telling them and hearing them. Every night, I'd find likeminded people - people who loved ghost stories as much - and invite them to my house to share stories. Only one oil lamp would light the house. I've written down many, many ghost stories that I've heard. I practiced them over and over, until I could recite them from memory. Those were the days when I was most happy. Whenever the sun rose, it meant that another wonderful night had ended. I hated the sunrise because it meant it had to end. I spent ninety-nine nights like that, sharing stories. On the last night, I told the story of "Futakuchi Onna". I told my guests that it was my ninety-ninth tale. They advised me not to tell any more ghost stories. They said that telling on hundred tales would curse me. But I didn't listen to them. They all made excuses and left in a hurry, afraid. Buy I knew I had to tell another. After they left, I took out a mirror and told a ghost story to my reflection. It was a good one. A scary one. It even made my own skin crawl a little. Satisfied with my storytelling, I went outside to extinguish the oil lamp. It should have been broad daylight by then. But it was dark. So dark. I never saw the sunrise again. And this paper lantern... I'm unable to put it down. So I wander from place to place in the dark, lurking in places where people tell ghost stories, listening attentively. And when they finish their ninety-ninth tale, I emerge, and proudly tell them my own ghost stories. I collected so many stories that I myself have become a spirit that lurks in the darkness. This is the story of "Aoandon"." ― Aoandon